Are you or is your staff looking for a digital  way to quickly access the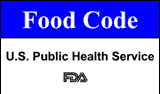 massive amount of Food Code data?  ncehsa.org has a way to do it.
Thanks goes to Alamance County's Environmental Health Director, Carl Carroll, REHS for providing this document for the Environmental Health staff in NC.
Click on this link to download a hyperlinked copy of the current (as of January 2013) North Carolina Food Code.
This document is open use and is not subject to any copyright restrictions.